| | | |
| --- | --- | --- |
| PESWiki.com -- Pure Energy Systems Wiki: Finding and Facilitating the Best Exotic Free Energy Technologies | | |
Directory:Joseph Newman Motor
From PESWiki
Joseph Newman is one of the more notorious names in the free energy world, having claimed for years that he has developed an electromagnetic device that produces more energy than it consumes, harnessing its excess energy from an unseen, free energy source.
While Newman's methods are bizarre, there are many serious scientists who have vouched for his technology over the years.
Task

Move here the contents from the PES Network precursor page: http://www.freeenergynews.com/Directory/Inventors/JosephNewman/
About
Official Website
http://www.josephnewman.com/ - explanation of concept, testimonials. Emphasizes the collapse of the electromagnetic field. "Operates on high voltage and low current -- directly opposite to conventional motors. Consequently, it runs cool."

Book > The Energy Machine of Joseph Newman - 8th Edition "provides a mechanical unified field explanation and presents an explicit mechanical and fundamental explanation for magnetic attraction/repulsion as well as for the other important forces found in nature." "Describes in detail the nature of Joseph Newman's revolutionary energy machine with more than 200 photographs, drawings, charts, and graphs." $79.95.
Latest Developments
June 26, 2010
Feature / Best Exotic FE: Electromagnetic > Newman Motor >
Big Eureka - The Energy Machine of Joseph Newman - This compilation from 2010 shows old and new footage regarding Joseph Newman's motor that produces far more energy than it consumes, by harnessing free energy from the environment, be it matter or gyroscopic forces. While his personality might be challenging, you can't argue with the overlooked volume of credibility. (PESN; November 5, 2012)


Feature: Electromagnetic > Newman Motor >
Alternative Explanation for Recent Newman Machine - Paul M. Zigouras write: "Appears to be running at very high efficiency...not overunity... 360 watts (which is roughly 1/2 horsepower) is more than enough to turn a lightly loaded motor that weighs 8,000 to 10,000 pounds -- or even more... A half horsepower motor could easily pump the volume of water that you see in the video...Sometimes, large devices can be deceiving, even to the inventor himself...." (PESN; November 12, 2012)

Electromagnetic > Joseph Newman Motor >
Newman 'historic event' demo Saturday in Texas - Joseph Newman has issued a press release announcing a demonstration this coming Saturday in Denton, TX in which they will show a "3 Ton Electric Motor + Load Basically: 'Runs It Self'." (PRAvenue; June 22, 2010) If you can you attend and report for us, let me know -- Sterling.

May 10, 2007
Newman gives demo - This device, he said, harnessed energy from matter at a 100 percent conversion rate, allowing it to produce more energy than was put into it. The National Bureau of Standards said the device put out only 27 to 67 percent of the energy that was put into it -- a test Newman said was flawed. (Press Register; Alabama; May 10, 2007)
March 31, 2005
Self-sustaining controversy - Is there really a machine that can run forever? The inventor of a self-fueled machine claims it's possible and even defended it by almost coming to blows with a colleague in a recent press conference... (Discovery.ca; March 31, 2005) (See PESN comments)
March 25, 2005
Energy machine press conference announced - March 28, Washington D.C. Device said to be a "quantum leap" ahead of previous device (which was touted at 11,400%). (ZPEnergy; March 25, 2005) [You would think their website and business approach would be more professional if they really had what they say they have had for so long.]
April 3,. 2005
Dec. 18, 2003
Joseph Newman Dec. 18, 2003 Demo - Overunity claim: 600 W measured going in from battery and 4.5kW measured coming out, running 3700 W generator, TV, fan, lightbulb, etc. [what's under the cover?]
Critique
How it Works
How this technology works is presently not well established.

Here is a blueprint from a French web site:

http://jnaudin.free.fr/html/qm11bp.htm
Videos
The Joseph Newman Story
A collection of manistream media coverage including the Today show, CNN, and others. Back in the glory days of the technology.
- - - -
Joseph Newman Magnetic Motor - A montage of Newman's work
"This video is my compilation from various videos about Joseph Newman's work on his Magnetic Motor." (YouTube September 20, 2007)
Newman's self promotion
Independent Testing
"Over 30 experts -- physicists, nuclear engineers, electrical engineers/technicians --- have tested Joseph Newman's energy machine (also known as the Newman Motor/Generator) and have signed Affidavits that it performs as indicated." [1]
JL Naudin Replication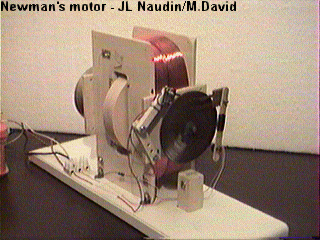 Inventor's replication of effect
From EddyCurentz - simple construction with a 9 volt battery:
http://www.youtube.com/watch?v=K7C4V6WXvkM&feature=related


From Ray0Energy: Using 9 volt batteries, he independently demonstrates the machine runs off voltage, not current.
http://www.youtube.com/watch?v=GneVcyie4X8
http://www.youtube.com/watch?v=BDvGrd0Iy58

He also shows the machine running directly from a solar panel.
http://video.google.com/videoplay?docid=-4899928047103042825&q=joseph+e+newman&total=6&start=0&num=10&so=0&type=search&plindex=2

Examples of tuning the motor: http://www.youtube.com/watch?v=5wE8w4nB4Ho&feature=user
http://www.youtube.com/watch?v=i9vsJHVFWKM&feature=related
Back spike EMF fails to charge battery: http://www.youtube.com/watch?v=i9vsJHVFWKM&feature=related
http://www.youtube.com/watch?v=F1a34qz73gY&feature=related



From RBare2007: http://video.google.com/videoplay?docid=-8234789734779506201&q=joseph+newman+energy&total=33&start=10&num=10&so=0&type=search&plindex=8

From PotatoGunman: http://www.youtube.com/watch?v=q2riUOZWWb8


Multipart series:
Patents
list here

PDF file:
http://v3.espacenet.com/pdfdoc?DB=EPODOC&IDX=WO8300963&PGN=2
Profiles
Company: ??
Inventor: Joseph Newman
Coverage
See Latest Developments above.
In the News
Other Coverage
Skeptics
On March 12, 2008, Eric Krieg wrote:
For over 30 years Newman has been offering nothing but broken promises in return for investment money. The following is from someone who wants to be anonymous for now:
"I'm asking other investment victims of Newman to come forward and tell their stories. There is a possibility that these combined grievances against Newman might result in legal action against Newman. Please keep in mind, there may be a long statute of limitations for some of these kinds of things. Contact me through erickrieg@verizon.net if you have had bad financial dealings with Newman and possibly want restitution."
Comments
See Discussion page
Contact
JOSEPH NEWMAN PUBLISHING COMPANY
Order/Processing Dept.
3725 South Division Street
Grand Rapids, Michigan 49548
email: [josephnewman@earthlink.net]
See also
- Other Directory listings • Latest • A-I • J-R • S-Z • Tree • News
- PESWiki home page